Certified Mortgage Specialist For Originators
Return To Loan Originator Training Programs
The CMS mortgage training curriculum covers all of the skills required to give new Originators "Mortgage Competency."  
For best results students should be REQUIRED TO COMPLETE this training prior to or within 2 weeks after reporting for work.
$995.00 Regular Tuition
$1025.00 Payment Plan Tuition
Each Student has 90 days Access To Complete This Training
Need to ask a question during or after your training just call 888-254-3431 or send your questions to: kathyl@capinst.com or garryt@capinst.com
Loan Originator CMS Curriculum: 36.00 Hr Training Cycle
1st:   How To Read Credit Reports
2nd:   Correctly Calculating The Borrowers Income
3rd:   Principles of Mortgage Finance (How To Take A Detailed Loan Application) Fees Worksheet & Loan Estimate
4th:   Fees Worksheet & Loan Estimate
5th:   Understanding FHA Loans
6th :  Understanding VA Loans
7th    Qualifying The Self-Employed Borrower
8th:  Advanced Sales & Marketing
1st:   How To Read Credit Reports
Most credit reports are divided divided into four sections:
* Whose credit is being represented
* How they pay  their bills
* Roll overs
* Public records
* Inquiries
When reading and interpreting someone's credit report, it's important to have the knowledge and skills to do so. This training is going to give you the knowledge and the skills
Loan Originators & Processors
After taking a correct mortgage loan application (1003), the first thing the loan originator and/or processor need to do is to compare it against the person's credit report. Checking names, residences, opened accounts, tradelines, credit limits, available credit, closed accounts, collections, charge offs and other information vital to the outcome of the loan's approval or denial.  Sometimes there are errors in a report.
The challenge is to read it carefully every time and understand how to interpret the information correctly.
Reading a credit report for the first time is very intimidating.  Lots of pages with data, tables, codes , contact information, addresses, payoffs …the list goes on.
Your instructor Kathy Lewis is going to take all the mystery and confusion away.   After completing this course, you'll have the knowledge and confidence needed to read any credit report accurately.
 2nd   Correctly Calculating The Borrower's Income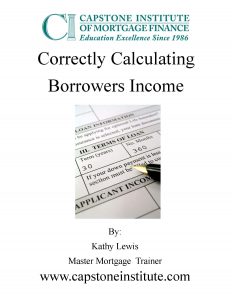 Kathy Lewis's presentation is easy to follow and is synchronized to your online and downloadable  manual with case studies.

Believe it or not:
One of the top reasons loans are returned or denied by lenders is improper calculation of the borrower's income. Regardless of who's mortgage software you're using, your software can't look at the borrower's income documentation and apply underwriting rules on what's acceptable and what's not. Only competent originators and processors can review the borrower's income and decide if it's acceptable or not
Overview of what's covered:
|
* 20% Declining Income Rules: When you need to use them
* The allowable differences in combining w-2's -1099's- and expenses
* When and how to average different incomes over past years and months
* When and how to average commissions
* When and how to deduct business expenses
3rd:  Principles of Mortgage Finance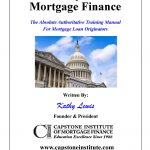 Open Your Principles Manual For Conventional Loan Origination
As a loan originator you should know how to calculate every computation on the Loan Estimate and Fees Worksheet without the assistance of any mortgage software.
Including:
Explanation of Mortgage Programs
Federal Regulations and Compliance Overview
TRID/RESPA/TIL
Calculating PITI By Hand
Reviewing the Credit Report
Qualifying Ratios
Reading Rates Sheets
Reading & Calculating MI
Explanation of Prepaid Finance Charges (PFCs)
Preparing a Fees Worksheet
Preparing Loan Estimate
Prepaid Escrow & Taxes
Taking a Detailed Loan Application
Acceptable Income and Assets
Required Documentation
Refinance Transactions
4th:    Fees Worksheet & Loan Estimate
Kathy Lewis  takes the mystery out of how the
Fees Worksheet and Loan Estimate form work.
Never completely trust any mortgage software. With Capstone's training  mythology you'll be able to calculate any part of  the Fees Worksheet and new Loan Estimate Form in seconds using your own calculator.  That's the great thing about Capstone's training, we teach you how to calculate everything using your own calculator.This means learning any mortgage software is going to be easy because you already know how the numbers work and where they go.
#5: Understanding FHA Loans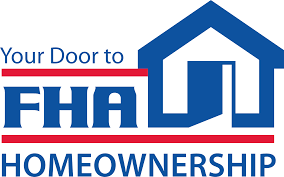 There's no such thing in the real world as FHA 101 or beginner FHA or basic or advanced FHA. You either know the FHA rules, guidelines, policies and procedures or you don't. Capstone Institute and Kathy Lewis have been instructing FHA loan originators and processors since 1986. We don't teach theory or divide FHA loans into modules like FHA Part 1 and FHA Part 2 to charge higher tuitions.
Nor do we cut our training time and content into separate training for originators and another for processors because we believe everyone needs to understand the complete process from origination to closing.
No shortcuts with our training. Your online video program is synchronized to your FHA manual, handouts, case studies and covers everything you or your department needs to master to properly counsel your borrowers and to close your FHA loans on time.
View some of our honored clients:
US Department of HUD:
Philadelphia Homeownership Center
Atlanta Homeownership Center
Denver Homeownership Center
Santa Anna Home Ownership Center
National & Regional Lenders
Freedom Mortgage
Union Pacific
FlagStar
Renasant Bank
Bank of America
Chase
Citibank
Wells Fargo
Regions Bank
Fifth Third Bancorp
Space Coast Credit Union
SunTrust
RESMAC
This training is offered as an individual program and the details can be found on our Home Page.
Lesson #6: Understanding VA Loans
Our Veterans have served our nation in the highest traditions and they deserve the best information available to them regarding their home purchasing rights and benefits under the GI Bill. The VA acts as the guarantor on the loan, protecting the lender in case of a default just like FHA does for civilians.
Kathy Lewis your instructor makes learning the rules and complexity of VA documentation and guidelines easy and we strongly advise both originators and processors to participate in this training.
Again there are shortcuts with our VA training.
VA Programs & Guidelines
Determining the Veteran's Eligibility
VA Allowable & Non-Allowable Fees – How to Complete the Fees Worksheet
Qualifying the Borrower & Determining Residual Income
Preparing All VA Forms
VA Purchase
VA Refinance
VA Streamlines Guidelines
Our VA training is also available as an individual program and the details and can be seen under our Origination or Processing areas.
Lesson #7: Qualifying The Self Employed Borrower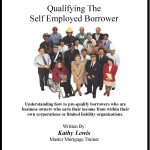 Printed 53 Page Case Study Tax forms And Schedule E
An important part of originating and processing loans is understanding how to properly qualify self-employed borrowers.
The trick is to understand and analyze tax returns without becoming an accountant and you don't need to take an accounting course to be confident about qualifying the self-employed borrower.
Capstone's training is always there for you. Your instructor Kathy Lewis gets right to the point of what you need to know and how to calculate your borrower's real qualifying income.
This course provides hands-on training covering reviewing the various business entities through review of all IRS schedules, including:
Sole Proprietor Income Tax Return
"C" Corporation Income Tax Return
"S" Corporation Income Tax Return
"LLC" Tax Return
Schedule "E" Real Estate Owned plus All Other Tax Return Schedules
Reviewing Partnerships K-1s
Reviewing the 1040 Individual Tax Return
This training is also available as an individual program and the can be seen under loan Origination or Loan Processing
# 9:  Sales & Marketing Strategies For Loan Originator
Includes: Printed Manual With Marketing Materials (No Testing)
Duration: 4 lessons, 2 hours each
All good Loan Originators need to understand how to start their own lead generation pipeline and not to rely on expensive and sometimes fraudulent lead providers. If the leads were so good why aren't they originating and making the commissions?
Well look no further because Kathy Lewis has a 4 part lecture series to help motivate and start your career off on the right path.
Pick a marketing series to listen to every week because every time you listen, you''ll come away with new ideas on how to generate more loan applications than your competitors.
How To Get For Sale By Owner Business
How To Get Business From The General Public
How To Get Builder Business
How To Get Realtor Business
This lecture series is offered as an individual program and the details with individual pricing can be seen on our Home Page