Guidelines For Taking A Detailed Loan Application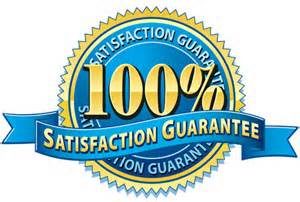 We guarantee your satisfaction
No other mortgage trainings companies
offer 100% satisfaction
Instructor :    Kathy Lewis
Duration:       6 Hrs with online testing
Included:        Printed 125 page manual with case studies, 90 days access
Certificate:    Yes after online testing
Support:         Full training support during and after training
Congratulations you've completed your NMSL training and testing and you're ready to start your job?  Slow down!  You might be the greatest sales person that ever walk the earth but salesmanship and producing loans that close on time  are two very different skills.
If you're a new banking employee don't worry about not taking the NMLS 20 hour pre-licensing training. This training is directed at teaching you how to do your job and not learning Federal regulations.
The technical manual used in this conventional loan training for new originators is called. "Guidelines For Taking A Detailed Loan Application". This training covers in detailed all the basic skills and procedures loan originators needs to understand before they make make their first loan presentation to any borrower.
TAKING A GOOD APPLICATION IS ESSENTIAL TO SUCCESS
There're at least 8 skill sets you must master before you can take a good loan application
Successful originators have already learned these skills from years of experience. As a new originator you'll need to catch up fast.
Many Banks, Lenders & Brokers Require New Originators
To Completing This Training As A Hiring Prerequisite.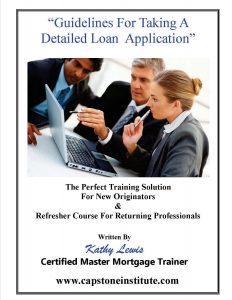 Your training is very detailed.
Open your manual's Table of Contents
*Getting Organized As A Loan Officer
*Getting Ready For The Pre-application interview
*Discussion with borrowers before meeting and their required documentation
*Calculating monthly mortgage payments and reading rate sheets
*Lender guidelines for ratios for per-qualifying borrowers
*How Much House Can I Afford form, which backs a borrower into an affordable home
*Preparing the Initial Fees Worksheet
*Bundling fees over to the Loan Estimate.
*Fees that Do & Do Not Affect the APR
*Closing costs and Prepaids explanation
*Truth-in-Lending Disclosure explanation for borrowers.
*Completing the 1003 Loan Application.
*Real Life Case Study utilized for each of the steps outlined above
Basic Mortgage Competency Without Breaking Your Training Budget
First: You'll be able to answers questions with authority from your borrowers on any of these categories. Your borrowers must feel confident that they're getting the right information the first time.
Second: How to calculate the numbers with your hand held calculator. If you're making your presentation at someone's home or at the realtor's office. you'd better be prepare to show them how you did it. Many people don't trust computer screens and prints out.