TRID – RESPA-TILA Integrated Disclosures Training
$75.00
Kathy Lewis makes learning the TRID regulations easy.
All the  legalise explained using  common sense
Description
TRID – RESPA-TILA Integrated Disclosures Training
$75.00
$75.00Read More
Duration:   3 Hours /  6 months online access
Testing:       Yes; Certificate of Completion awarded after testing
Includes:    Downloadable manual and handouts
Kathy Lewis has humbled many attorney firms offering this training.  Their information was good, but rumors say it was sometimes hard to stay awake.
Kathy blends in pertinent real life stories into her lessons which helps her students in  remembering the finer key  points and keeps the lessons rolling smoothly.   She has a great gift of reading through the legalise and translating what the government is expecting from you  and how to properly comply.
What is included In your training
Upon registering for this training you'll assign yourself a user name and password to enable you  to log into your lessons.
After logging you'll have instant access to your training for 6 months.

Training Materials:
You'll be able to download your training manual and case studies on your first introduction page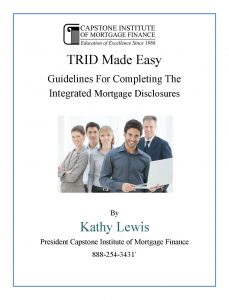 A few national lenders who have use this training?
Union Pacific
FlagStar
Freedom Mortgage
Compliance officers & Recurrent Training
Request a discounted quotation if you're considering TRID Refresher training for your company or to combine it into your new on-board training for new originators and processors
About this training
Kathy has simplified the TRID into a logical sequence of lessons. After 36 years of training mortgage professionals she understands the right ways to intruct new student with the complex set of rules and time lines.
Section 1:
Preparing the Loan Estimate Form
This section covers the requirements for correctly filling in each box on the loan estimate form. As always Kathy Lewis's training case studies demonstrate how to calculate everything with just a basic calculator.
As you progress through your section #1 training, Kathy addresses the most frequently asked questions and how to stay compliant.
Section 2: 
Preparing the Closing Disclosure Forms
Section 3:
Disclosure of fees and charges, waiting periods.
including when to disclose and when to re-disclose. Kathy will take you step by step how to to correctly complete the new disclosure regardless of what type of loan your doing.
$75.00Read More