CMS for Loan Processors
For best results students should be required to complete this training within 2 two of starting their job.
The CMS mortgage training curriculum covers all of the skills required to give new Processors "Mortgage Competency."

Instructor: Kathy Lewis
Duration:    4 Training Programs Plus 3 Bonus Classes / 38 Hours / 90 Days Access
Included:    Printed Manuals and Case Studies And Online Manuals And Case Studies
Loan Processor  CMS Curriculum: 38 Hrs. Training Cycle
Fundamentals Of Loan Processing (Conventional Loans)- Includes Fees Worksheet -Loan Estimate and TRID
Understanding FHA Loans
Understanding VA Loans
Qualifying The Self-Employed Borrower

Plus Bonus Training: 10 Hrs
TRID
Fees Worksheet & Loan Estimate
Correctly Calculating Borrower's Income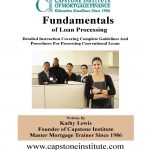 CONVENTIONAL LOAN PROCESSING
Lesson #1: Fundamentals of Loan Processing
Capstone Institute trained processors are better organized because they are taught a systematic way of problem solving and how they're going to address any problems which could arise in the future which could stop their loan from closing on time.
Capstone processors don't have to rely on computer software to perform there jobs. Every processor who receives their certificate understands how to calculate every number and formula within a mortgage application, with only a basic financial calculator.
Our structured training prepares processors to perform their duties and responsibilities, quickly and with minimum management supervision. Our training covers every job skill a new processor needs to understand. As a new conventional loan processor your duties, skills and technical knowledge are held to a higher standard than a loan originator. Why?
Because it will be your responsibility to insure that every statement of fact that the borrower has made on their mortgage application correctly reflects the borrower's true identity, employment history, verifiable income and all their assets and liabilities.
Additionally you'll need to insure your loan originators always stay in compliance with all state and federal lending laws, rules and guidelines or your loan will never be approved.
Duration:Approximately 8.0 clock hours / Online Testing Requirement
INCLUDES STREAMLINE REFIS, CASH-OUT AND REGULAR NO CASH-OUT REFIS
Lesson #2: Understanding FHA Loans
Open Your FHA Manual's Table of Contents
There's no such thing in the real world as FHA 101 or beginner FHA or basic or advanced FHA. You either know the FHA rules, guidelines, policies and procedures or you don't.
Capstone Institute and Kathy Lewis have been instructing FHA loan originators and processors since 1986. We don't teach theory or divide FHA loans into modules like FHA Part 1 and FHA Part 2 to charge higher tuitions.
Nor do we cut our training time and content into separate training for originators and another for processors because we believe everyone needs to understand the complete process from origination to closing.
No shortcuts with our training. Your online video program is synchronized to your FHA manual, handouts, case studies and covers everything you or your department needs to master to properly counsel your borrowers and to close your FHA loans on time.
View some of our honored clients:
US Department of HUD:
Philadelphia Homeownership Center
Atlanta Homeownership Center
Denver Homeownership Center
Santa Anna Home Ownership Center
National & Regional Lenders
Freedom Mortgage
Union Pacific
FlagStar
Renasant Bank
Bank of America
Chase
Citibank
Wells Fargo
Regions Bank
Fifth Third Bancorp
Sun Trust
RESMAC
This training is offered as an individual program and the details can be found on our Home Page.
Our Veterans have served our nation in the highest traditions and they deserve the best information available to them regarding their home purchasing rights and benefits under the GI Bill. The VA acts as the guarantor on the loan, protecting the lender in case of a default just like FHA does for civilians.
Kathy Lewis your instructor makes learning the rules and complexity of VA documentation and guidelines easy and we strongly advise both originators and processors to participate in this training.
Again there are shortcuts with our VA training.
VA Programs & Guidelines
Determining the Veteran's Eligibility
VA Allowable & Non-Allowable Fees – How to Complete the Fees Worksheet
Qualifying the Borrower & Determining Residual Income
Preparing All VA Forms
VA Purchase
VA Refinance
VA Streamlines Guidelines
Our VA training is also available as an individual program and the details and can be seen under our Origination or Processing areas.
Lesson #4: Qualifying The Self Employed Borrower
Printed 53 Page Case Study Tax forms And Schedule E
An important part of originating and processing loans is understanding how to properly qualify self-employed borrowers.
The trick is to understand and analyze tax returns without becoming an accountant and you don't need to take an accounting course to be confident about qualifying the self-employed borrower.
Capstone's training is always there for you. Your instructor Kathy Lewis gets right to the point of what you need to know and how to calculate your borrower's real qualifying income.
This course provides hands-on training covering reviewing the various business entities through review of all IRS schedules, including:
Sole Proprietor Income Tax Return
"C" Corporation Income Tax Return
"S" Corporation Income Tax Return
"LLC" Tax Return
Schedule "E" Real Estate Owned plus All Other Tax Return Schedules
Reviewing Partnerships K-1s
Reviewing the 1040 Individual Tax Return
This training is also available as an individual program and the can be seen under loan Origination or Loan Processing
MORTGAGE COMPETENCY IS WHAT IT'S ALL ABOUT
Your " Mortgage Competency" is assured with your CMS award designation
This course of training is designed for new originators and processors who need to become effective in their new positions within 30 days and proficient within 90 days.
We first instituted our CMS program back in 1997. Back then we offered this training live in Atlanta and had students flying in from all 50 states.
Later we expanded our CMS training to VHS tapes, then CDs and finally in 2004 to online self paced videos. From 1997 to date we've trained over 65,711 CMS graduates. We talking about real training that's industry respected and not some self paced continuing education class.
You can feel confident that your CMS training continues to be current and extremely detailed in all aspects of origination and processing.