Fundamentals of Loan Processing
Return to Loan Processors Training Programs 
Instructor:  Kathy Lewis
Duration:    16 Hrs. with testing & certificate ( 7 Lessons – 2.3 hours each- 90 days access)
Included:     Printed Manual and case studies with simulated loan file
Certificate:  Certificate of Completion after testing
Some would say loan processing is easy. Just fill in the blanks on your loan software and your done. Not True.
Capstone's philosophy is one of "HANDS ON", without using any software. We believe in teaching processors how to calculate all the numbers by hand and why its important.
Learning  your company's mortgage software is so much easier when you understand how to do the numbers yourself.
We guarantee your satisfaction.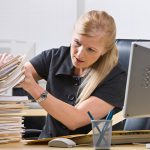 WHY ARE OUR PROGRAMS SUPERIOR
Conventional Loan Processing
The Loan Processor scrutinizes every line item on the residential mortgage loan application for accuracy and authenticity before signing off on the file and sending the loan application to the underwriter for approval.
Kathy Lewis's processor training takes complicated topics and breaks them down into simple concepts in a logical order.
Capstone Institute has been perfecting their "Best Practices" methods for training loan processors and loan originators since 1986.
Capstone Institute-trained processors are better organized and understand how to calculate all of the numbers without relying on their mortgage software. Our structured training prepares processors to perform their duties and responsibilities quickly with minimum management supervision. Our training covers every job skill a new processor needs to understand .

Capstone Institute Certificates of Completion have been national recognized since 1986
While in training you're going to actually process a  complete loan file and get it ready for shipping to underwriting.
Open the loan processing manual and everything that's listed is going to be covered. That's why it take 16 hours to complete this training.   There are no short cuts with Capstone.
As a processor you must be more knowledgeable than your loan originators and sometime even your boss. Your expertise must include all current federal regulations, all conventional loan types both traditional and nontraditional, to include adjustable, hybrids and many others.
Mortgage regulations, processing rules and financial calculations can be  intimidating, But not with Capstone because the curriculum is built in learning steps.   Watching and listening to Kathy is like being in a live presentation.  
One of the many advantages with our conventional loan processing training is that it's been constantly updated and perfected. Our conventional processing training is extremely detailed and your expected training time is about 16 hours. You'll actually process a complete simulated loan file.
After 3 to 5 years of work experience many processors advance into underwriting and higher management positions.
Student Technical & Training Support
Kathy Lewis has always prided herself on offering the best student support in the industry. Whether you're currently taking any of her training classes or whether you have an unusual loan situation in the future, Kathy is happy to assist
Since 1986 your instructor Kathy Lewis has always offered free life time support.