FHA DE With FHA Training Refresher ($745.00 Discounted to $645.00)

Coming back or already in residential lending and want to improve your resume for that next job?
We hope this combined training offer will help.
This training is meant for you if:
If you have accumulated industry experience of at least  3 or
more years and if you are or have been a:
Conventional Loan Underwriter
Conventional processor
Returning FHA Underwriter
Returning FHA Processor
Regional or Branch Manager
How it works:
If you've had previous mortgage experience and want to move into a FHA DE underwriting position and need to prepare for your first interview.
You might want to think about refreshing you knowledge of FHA and FHA underwriting skills.
Take our FHA origination & processing training followed by our FHA DE training and get a $145.00 discount
Retail Pricing =  FHA DE Training, $425.00 + FHA,  $295.00        Total $720.00
Take Both       =   Get a $145.00 discount                                                             $575.00
Use Coupon Code FHA DE Combo to receive discount.
Not ready for FHA DE and FHA together?
We have a FHA Spring discount $195.00   ( $100.00 Discount)
Visit our FHA Training page for details
About Your Training: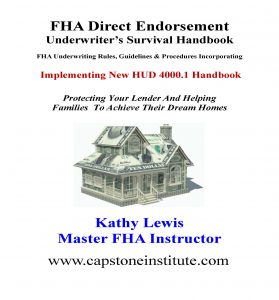 Learn about the highest rated FHA DE underwriting training available today
Learn more about the highest rated FHA training available today