At Capstone Institute, we focus on one thing: educating people in the mortgage and lending industry so they can further their careers. One of our most popular programs is our loan originator training, which provides classroom education and preparation for the NMLS test. People who succeed with this program often go on to brilliant careers in mortgage lending and banking.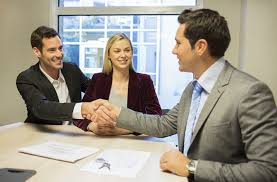 Prospectively entering the loan origination industry — with its opportunities for high compensation and distinguished job titles — appeals very much to people who want to advance their careers. The only problem is they are not always sure exactly what a loan originator does.
To clear up this confusion or any misconceptions surrounding loan origination, here is a definitive answer to the question, "What is a loan originator?"
The Duties of a Loan Originator
A loan originator has many jobs. Their foremost concern is processing applications for people seeking a mortgage loan. They must analyze the application and perform a comparative analysis with the applicant's financial situation and their corresponding risk as a lendee.
Loan originators must make a judgement call on how likely the applicant is to repay the loan. To do this, they review financial statements, credit history, debt-to-income ratios and other risk factors like criminal history. Many times, the final call of loan approval falls upon another position called an "underwriter." However, a loan originator will commonly serve as both underwriter and loan application processor, meaning they need to have solid knowledge of concepts like risk management and long-term financial forecasting.
A frequent second job of the loan originator is to find a mortgage that fits the applicant's needs. They will pre-approve the financial standing of the applicant and use their application to "shop around" for the best deal they can get their client. Loan originators also frequently negotiate on behalf of their clients for better loan agreement terms like a more favorable interest rate. This role is similar to a mortgage broker, and usually requires a final say from the underwriter of the lending agency they intend to work with.
A third job of the loan originator is as a salesperson. They must track down people seeking mortgages and sell them services for locating an appropriate loan. Many loan originators work just as hard to find clients to work with as they do actually processing applications for the clients.
Part of this third duty involves educating clients on concepts like how mortgages work, methods to make repayment easier and tactics for finding the best loan terms possible.
What Is the Difference Between a Loan Originator and Other Similar Titles?
The biggest difference between a loan originator and jobs like "loan officer" is that the originator is licensed and registered to a state or federal board that has oversight over lending practices. These credentials grant the loan originator authority to make final approval decisions and set loan agreement terms.
Loan officers, by contrast, basically review applications for the bank they work with to highlight any incomplete fields or "red flags" and pass this information onto underwriters. Underwriters, as stated before, weigh the actual risk and make final approval decisions.
"Mortgage broker" is a term usually applied to loan originators who do not work directly for a banking or lending agency. Sometimes a broker does not have the credentials of an originator, so they must work through a third party or have someone licensed within their office to serve in this capacity.
Hopefully this answers the question, "What is a loan originator?" including what they do and how they relate to other positions within the mortgage lending industry.
You can register here for the required classes to take your NMLS exam.  Get excited about the idea of working as a loan originator — finding people the loans they need to change their life and making money while doing it!