State of Georgia Mortgage Regulations
Stay Compliant & Avoid Headaches With The Georgia DBF
Every Broker or Lender branch manager who is licensed to do business in the State of Georgia needs to know and understand their responsibilities under Georgia Law.
This isn't a quick continuing education course designed to just meet Georiga DBF'd minimum requirements, but an indepth program to keep you compliant and to give you confidence in your operations and proceedures when you receive you notice to have your records , and documentation ready for your internal an audit by the DBF.
Course Type:
Self Paced Videos / 4+ hours/ Power Point With Materials

This is a selfpaced video training program designedd to be used with our downloaded materials
Certficate of Completion
Certifcate of Complition is avaiable after online testing
What Is Covered – Course materials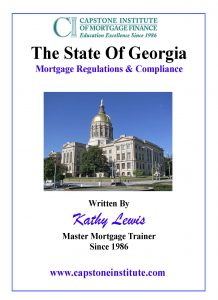 After registering you will have access to download
you materials to your desk top.